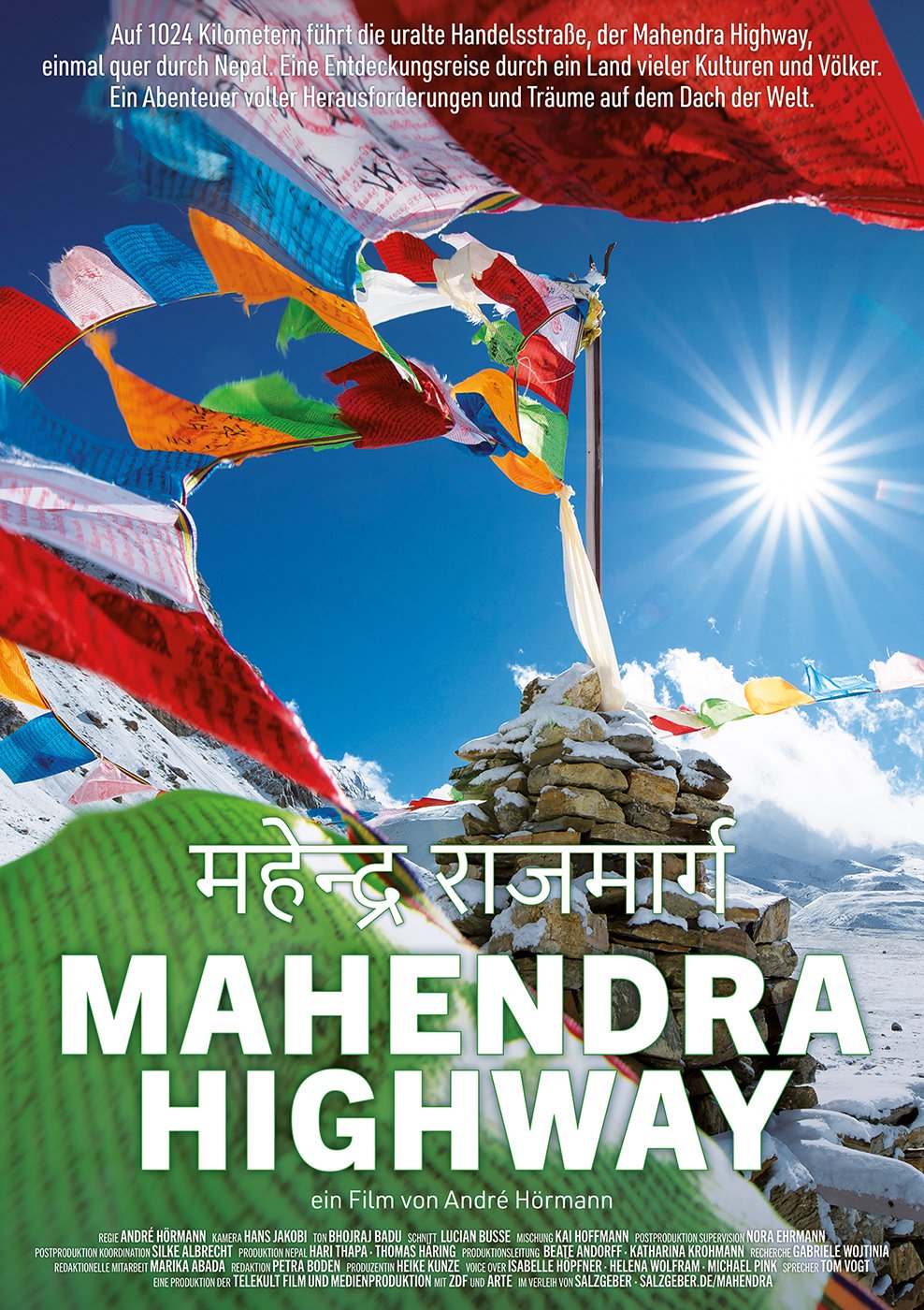 Mahendra Highway
regie André Hörmann, editing Lucian Busse, kamera Hans Jakoby, 
 produziert von Telekult, Verleih Salzgeber, dokumentation 85 min, 2022,
Auf 1024 km führt der weltberühmte Mahendra Highway einmal quer durch Nepal, entlang von Urwäldern und Bergwüsten, durch tropisch heiße Regionen und vorbei an den eisigen Gipfeln des Himalayas. Naturwunder reihen sich an Kulturstätten, Pilgerorte an pulsierende Basare, buddhistische an hinduistische Heiligtümer.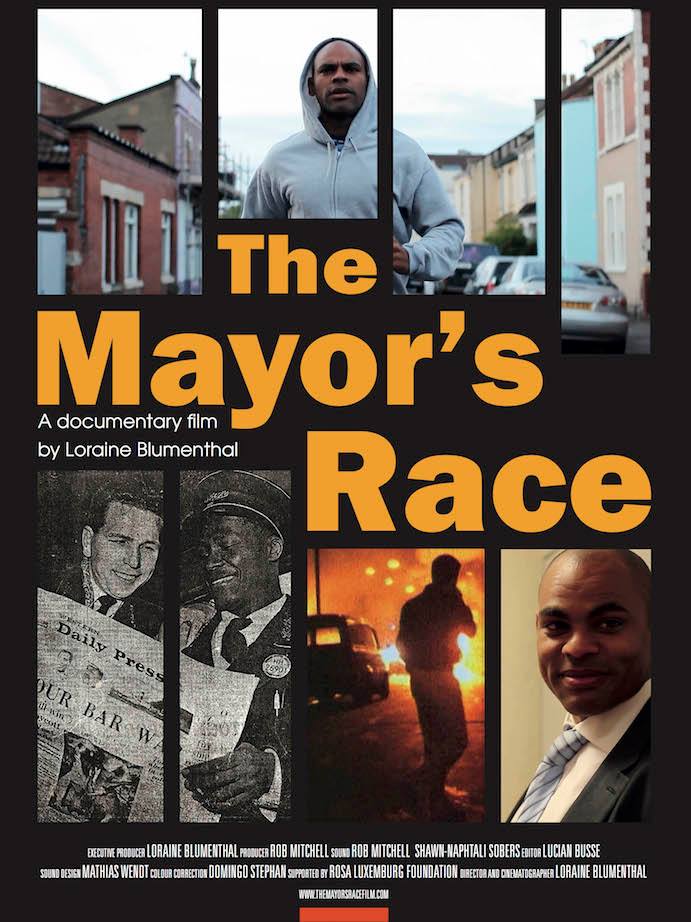 The Mayor's Race
directed by Loraine Blumenthal, editing Lucian Busse,
 produced by Rob Mitchell, documentary 85 min, 2018,
Marvin Rees is a 'mixed race' man in his 40's. Having experienced poverty and racism in his life, he wants to shape the society he lives in and believes political office will give him the power to do so.
In 2012 he runs for mayor in Bristol, UK. The journey into politics hits him with rejection, failure and an inner struggle that eventually leads to the biggest challenge of his life. THE MAYOR'S RACE is about the desire to overcome doubt and the boundaries between social background and power.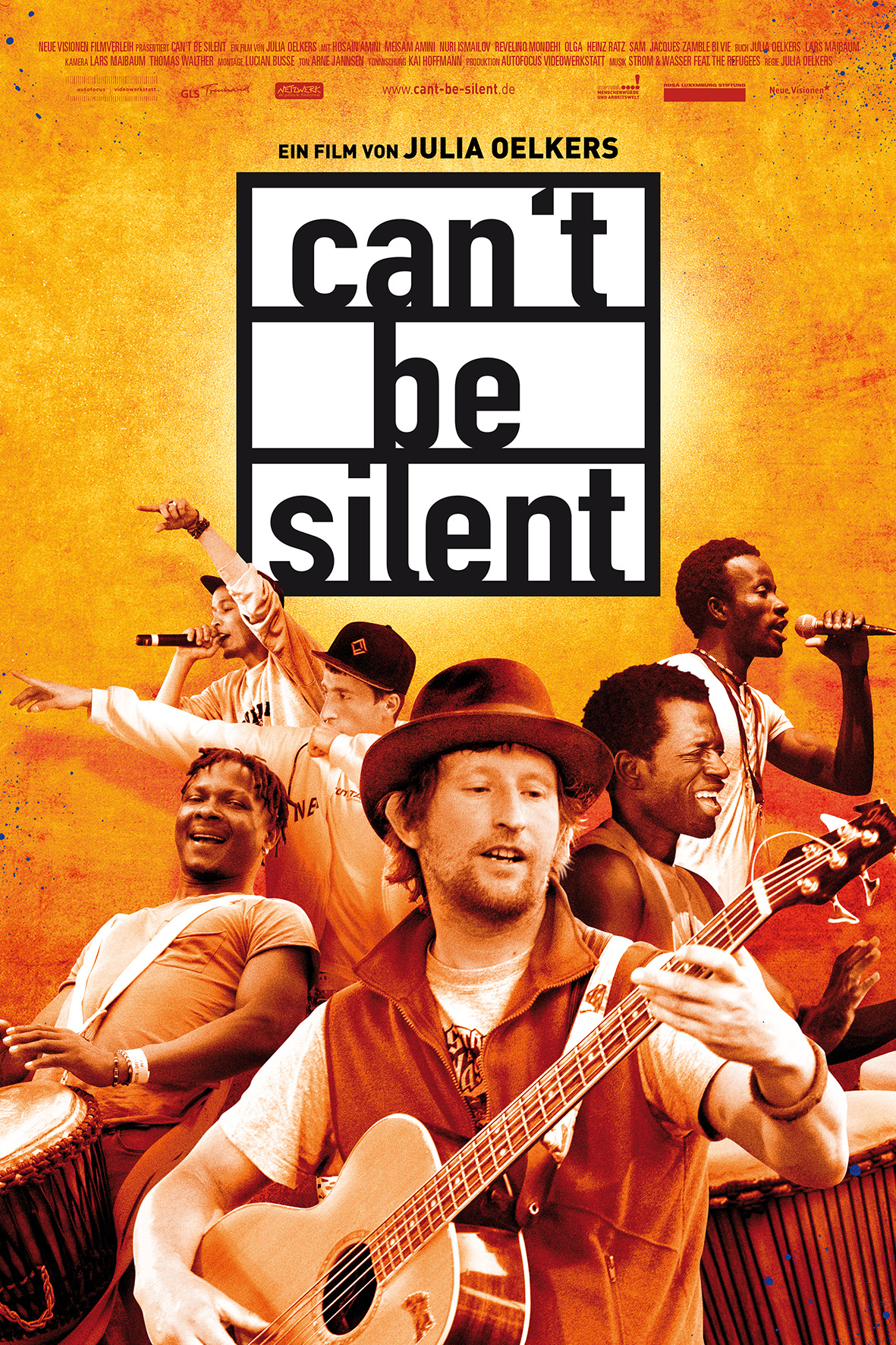 Can't be silent
Can't be silent
directed by Julia Oelkers, editing Lucian Busse,
documentary 85 min, 2013, autofokus videoproduktion
cant-be-silent.de/home
They are musicians from Africa, the Balkans and Iran. And since May 2012 they have been touring Germany with songwriter Heinz Ratz and his band Strom und Wasser. What makes this project special is that these musicians are asylum seekers. Throughout the summer we have accompanied them on their journey and followed them with our cameras.
On the stage: young rappers join together with an experienced Jazz pianist, a reggae singer with a German singer-songwriter, an African percussionist with accomplished Roma musicians and a beatboxer with Greek roots. Despite their differences, they gather in a respectful way – meeting each other eye to eye. Their creativity unfolds as they work to develop a common language through music. "I can´t be silent will show this process of convergence: from the wrong notes to the beautiful harmonies, from the stage-fright to the shining moments. We will show the small locations and thunderous applause, the enthusiasm and the grinding routines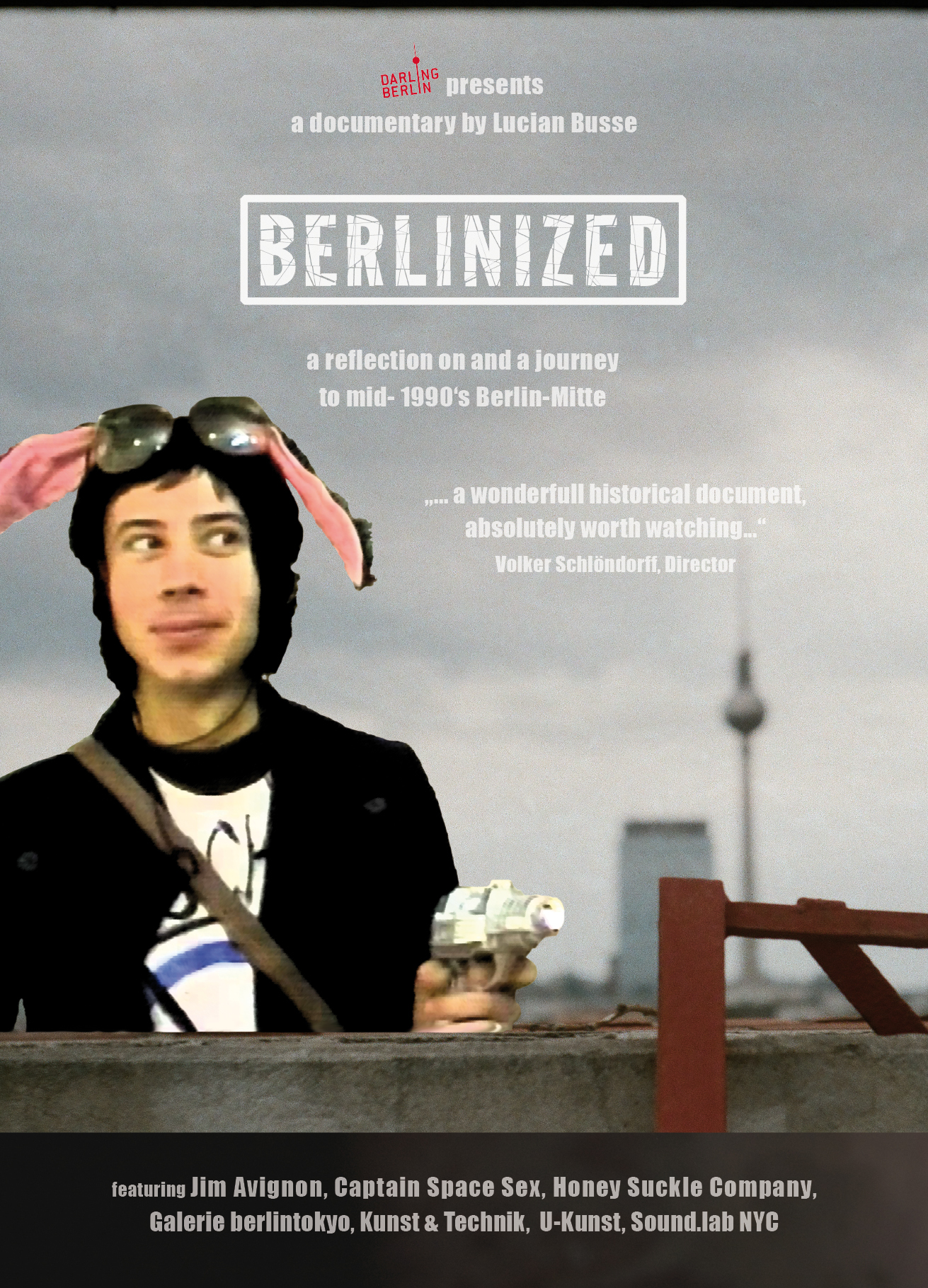 Berlinized
directing, camera, editing Lucian Busse,
documentary, Alien TV 2011, 82 min, disribution Darling Berlin
Berlin in the 1990s: amongst great political change and in the shadow of ultra-commercialized Techno culture, there existed a parallel universe, now mostly forgotten, but defining for the feeling and lifestyle of the city: the world of basement bars and off-creatives.
After the Wall fell, a lively and very motley scene of young people used the vacant houses and apartments in Berlin-Mitte as a stage for living and celebrating their sense of easygoing freedom. Long-term success was not an important category – people lived their lives from one event to the next experiment, playfully de-establishing art and its market imperatives.
The film "BERLINIZED" takes you on a tour to 1990s' Berlin-Mitte, both capturing and reflecting on this very unique feeling at a certain place in time. Filmmaker Lucian Busse, an active protagonist of this era, took his camera everywhere to document the changing cityscape, the art scene, clubs, concerts, and also the many construction sites where free space was filled up with ever-new, ever-the-same, faceless office buildings
stream Berlinized
iTunes    Amazon Prime    Dailymotion    Vimeo on Demand     RealEyez     maxdome   Flimmit   Alles Kino
buy the DVD
Amazon
Language: German/English (Dolby Digital 2.0)
Subtitles: german, english, italian
Release Date: 9. Januar 2015
Year of production: 2012
83 Minuten
60 min Bonusmaterial including more about Alien TV, Jeans Team, Bad Kleinen, Honeysuckle Company, Captain Space Sex, Paloma at Club for Junk
The Joyside of Europe
directing, camera, editing Lucian Busse
documentary, Alien TV 2009, 84 min
Four Chinese punk rockers on a journey through a strange world – to a "Chinese" restaurant run by Thais, at the hardcore vegan place in Bremen, at the Bavarian emergency clinic, in a small Hessian village, holding an early-morning dream interpretation session at an Autobahn rest area, and playing numerous wild concerts.
Joyside from Beijing take you on the road – in their band bus, backstage, day and night, through Europe,
directed by Lucian Busse, Alien TV 2008
for two months.
For the four Chinese musicians, it was a dream come true – at last, they were able to follow the footsteps of their rock'n'roll heroes! Off to London they went, to the cradle of 1970s punk rock. To them, it's the city of The Clash, Jonny Thunders, The Sex Pistols, and Marc Bolan. In Paris, they paid their homage to Jim Morrison at the Père Lachaise cemetery.
The Doors were one of the first rock legends to cause repercussions that were felt in China. And Berlin? Well, of course that's also the city of David Bowie and (Velvet) underground icon Nico!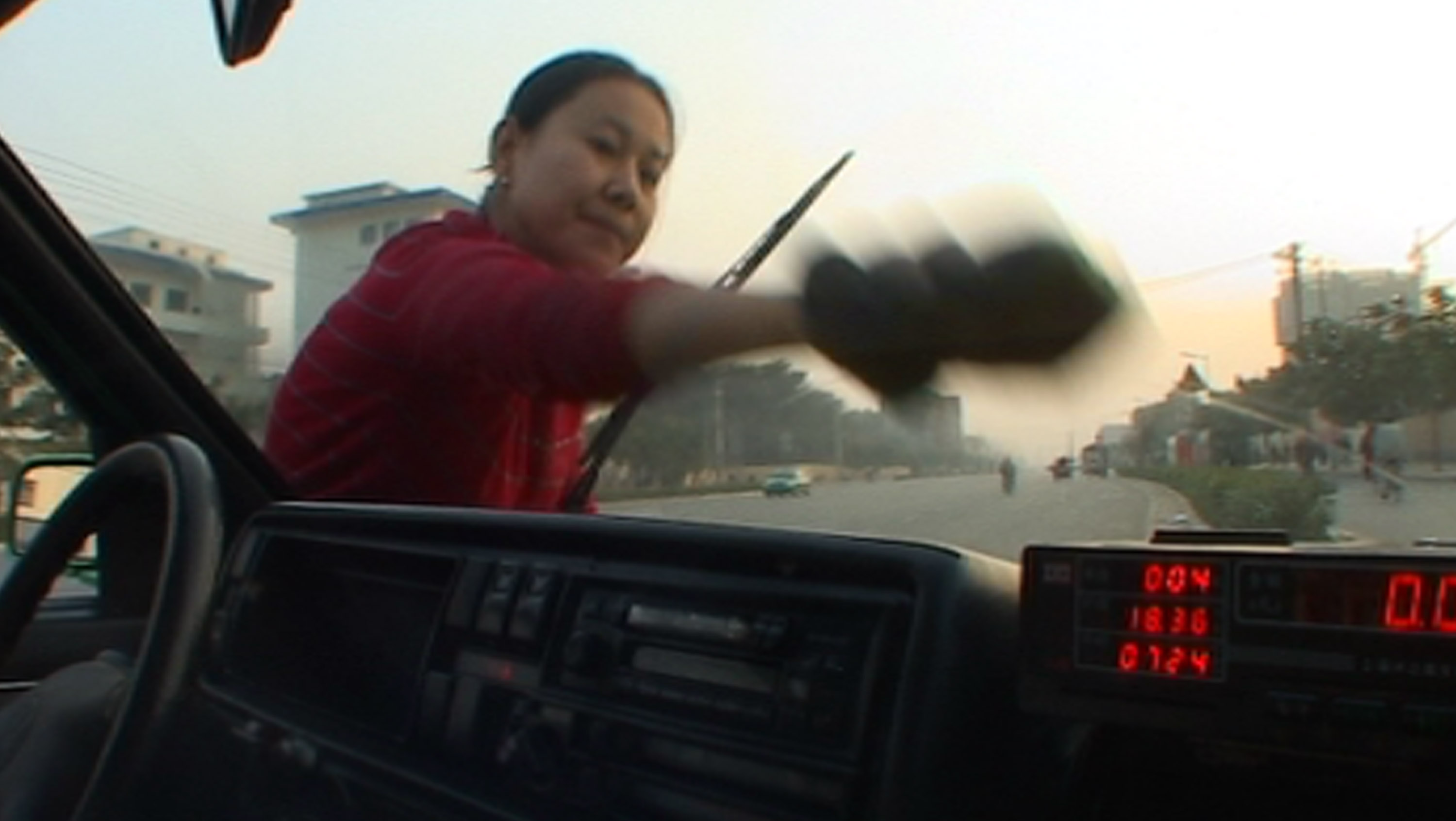 Women at the Wheel
directed by Fang Yu, editing Lucian Busse, documentary 70 min 2004, distribution Kloos&Co
For more then 10 years, they drive a minimum of 10 hours a day, every single day of the year through the Chinese metropolis of Xian. Mrs. Wang, Mrs. Duan and Mrs. Yu are cab-drivers, colloquially called 'taxi sisters'. The three of them are considered 'lucky' as they manage to make their living in times of privatization of state-run enterprises. While most of their former colleagues are out of work (there are around 120 million unemployed people in China) they managed to save up the amount needed for a taxi license.
The little money they make is just enough to feed their family. Driving a cab is no easy task for women. With work being a strain, contracted debts piling on the pressure, and having to corrupt officials, crooks and gangsters, each day poses a real challenge. We join these three women cruising through the city of Xian, visit them at home after work is done and learn about their lives, their sorrows and joys, and their aspirations.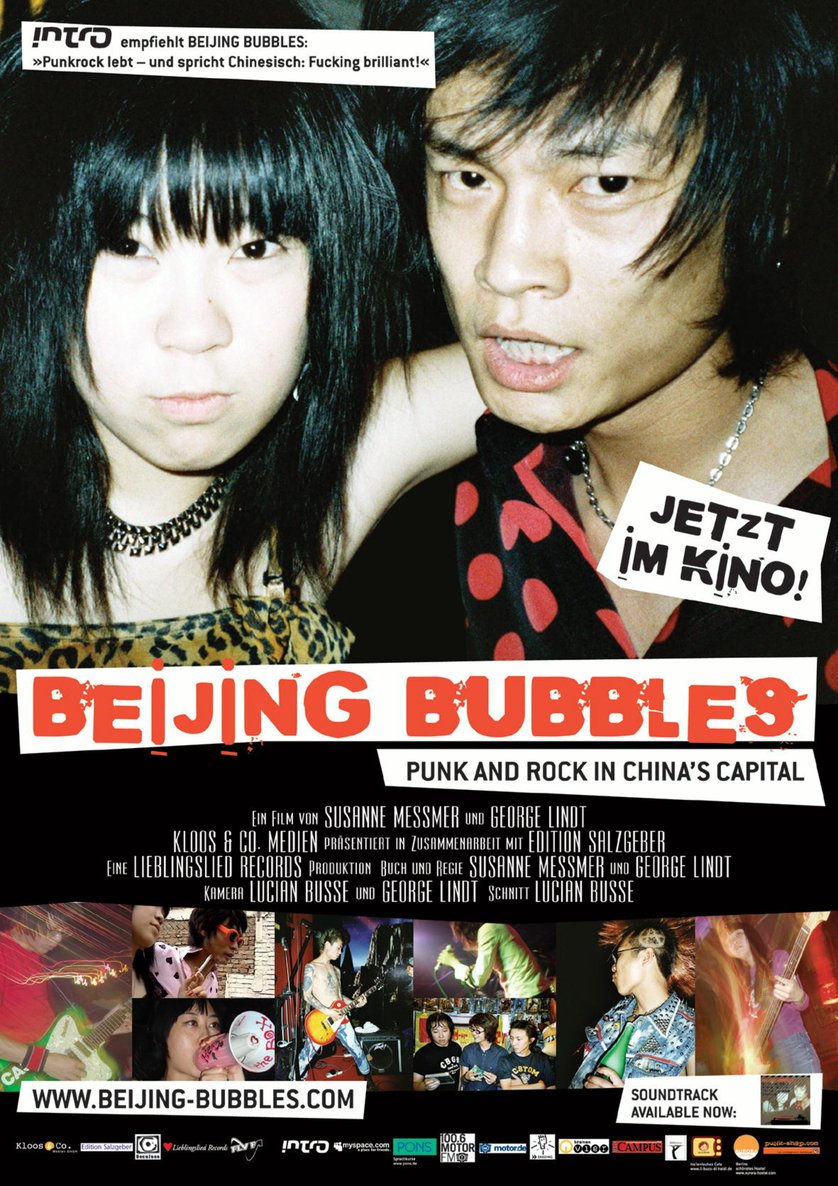 Beijing Bubbles
directed by Susanne Messmer & George Lindt, editing and camera Lucian Busse, documentary 2005, 84 min
A personal and intimate film about five punk and rock bands from Beijing and moreover about being different in the world´s fastest developing country. While everybody seems to be obsessed with social advancement and the accumulation of prosperity, these youngsters say: No!… and do their own thing. A never-seen-before look into China´s subculture featuring the bands Joyside, Hang On The Box, New Pants, T9 (Hangai-Band) and ShaZi and their great music.